Be Your Own Life Coach With These Self Coaching Tools & Resources
To be your own life coach and keep yourself on track towards the things you want in life, there are a variety of self-coaching tools on this page to draw from. Use the self improvement tools below to find insight and inspiration to help coach yourself around any situation. Keep in mind that these self-help tools will only be as good as the use you make of them. Use them often, use them well, and the benefits will be yours.
Being Your Own Coach
---
One-on-one life coach help tops the pyramid of professional support offered at Evolutionary Pathways. Of course not everyone is ready for the commitment and cost of full-service life coaching, nor does everyone require this level of support towards their endeavors.
Immediately below you will discover a number of excellent self-coaching solutions that provide great value and require less of a financial investment than standard life coaching fees. The basic version of the co-active 'ThinkPal', for example, is absolutely free.
Use these tools to coach yourself towards fulfillment and attainment of whatever it is you want to achieve. Use them to inspire your thinking, to gain insight into areas of your life that need attention, and to keep yourself on track with your daily habits and goals along the way. Let the games begin...
'ThinkPal' - Your Coach on the Go
---
The 'ThinkPal' is a life coaching tool you can download to your phone completely free of charge. It is easy and straightforward to use and is equipped with some simple, yet profound exercises, that are designed to bring clarity and insight into your life. Be your own life coach with the help of this powerful tool.
Keep Your Goals On Track
---
It is great to go with the flow of life. Yet, there are times when setting goals and achieving them give us the most powerful way forward. This is especially true if what we aim for requires methodical planning and meeting clear milestones along the way. Visit setting smart goals for everything you need to set powerful and achievable goals that will take you where you want to go.
Coach Yourself Towards Subconscious Change

---
Evolutionary Pathways currently recommends a number of 10-step self coaching programs for creating desired change in your life at a subconscious level. These programs help you be your own life coach by walking you step-by-step towards reprogramming the mind while giving you the ability to monitor your own progress along the way.
The programs you will currently find on offer cover some of the following areas for meaningful change...
Overcoming social anxiety and shyness.
Eliminating negativity and getting out of your own way.
Transcending Insecurity in Relationships.
Getting over fear of public speaking.
Gaining confidence and becoming naturally attractive to women.
Losing weight naturally.
Changing your thinking and emotions around money.
These courses provide you with all of the know-how, practical tools and guidance you need to success. The workbook, progress checker and professional downloads combine to make these programs ideal for self-coaching. Start your 10-steps to reprogramming the mind today.
Thought Provoking Questions
for Breakthrough Change
---
Powerful questions are a cornerstone of not only effective coaching, but of self-coaching as well. The questions we ask determines the answers we find. If we aren't finding satisfactory answers to the problems we face it may be that we just aren't asking the right questions.
Explore these thought provoking questions for life to spark some new ideas. You never know... you may just find the question that leads you straight to the answer you seek.
Six Questions to Ask When
Big Changes or Challenges Are Afoot
---
This self help skill formula will help you coach yourself through big changes or challenge. Asking yourself these questions forces you to think constructively and creatively about the situation at hand and helps to determine how to proceed.
Inspirational Thoughts
---
To be your own life coach is to find the inspiration and motivation you need to live life as you have come to envision it. Exposing ourselves to inspirational thoughts and sayings, from some of the greatest of minds, is a powerful way to elevate our own thinking and energies. It is a way of opening ourselves to avenues of thought and expression that otherwise may have never been known. Inspirational thoughts are a powerful stepping stone towards positive change.
Who Are These Coaching Tools For?
---
These coaching solutions can be of great benefit to anyone who would take full advantage of them...
The mobile 'ThinkPal' or coach-in-your-pocket places inspiration and insight readily at your fingertips anywhere you go.


The 10-step programs provide a systematic approach to re-educating the subconscious mind around specific topics so as to free yourself to live the life you want.


Thought provoking questions and inspirational thoughts provide great environments for personal growth. They are strong catalysts for change.
To be your own life coach has never been easier with access to these kind of tools and resources. Implemented in conjunction with the rest of the self improvement advice and resources offered extensively on this site, you have most everything you need to keep adapting, changing and moving towards the life you have determined to live.
A Challenge Beyond
---
Being your own life coach is great. Yet, there are times when receiving constructive feedback from a trained professional coach can be invaluable. This is especially true when you find yourself stuck and unable to move ahead despite your intended plans. Perhaps you don't yet have a plan, and you would like to get some direction to set yourself on a purposeful path.
Evolutionary Pathways offers a number of options for those who are ready to move beyond the limitations of self-coaching and rise up to the challege of change that is presenting...


Interactive online life coaching. This option is similar to what might be known as email coaching, yet with some significant differences. If you have a specific issue you want dealt with, this may be the most cost-effective and straightforward option available.


10-step professional life coaching solutions. If you have elected to work through any of the 10-step programs outlined above, you may choose to hire an interactive coach to help you see the course through to completion. In addition to coaching yourself, you will have a professional coach to support you every step of the way.


Phone coaching with Eli. This is the most comprehensive and expensive coaching solution available. It is for those who are highly committed and financially able to invest in themselves and their meaningful goals. If you are unsure whether you require this level of service, starting with interactive coaching is a good way to 'test the waters' without a large upfront commitment. Having said that, by the very nature of interactive online life coaching, it will be limited in comparison to what can be done and achieved through live, one-on-one phone coaching.
At the end of the day, to be your own life coach means to be willing to do whatever it takes to honor yourself and the changes you feel you want to make. Sometimes we may be able to make those changes on our own and other times we may need to enlist some form of support in order to make things happen. A big part of coaching yourself towards your own brand of success is knowing when it is time for one and when it may be time for the other.
---
Like what you've been reading so far? You can download the best of it here...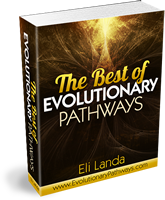 Click image for details
---
For more inspired self improvement and motivation articles that can help you be your own life coach, visit:
---
Return to top of Be Your Own Life Coach
Return to Inspired Self Improvement and Motivation Homepage
---
Copyright© 2012, Evolutionary Pathways®. Proactivity, Motivation and Self Improvement. All Rights Reserved.
Please review our privacy policy, legal disclaimer and affiliate disclosure