Having an Attitude Of Gratitude
Is To End Victim Mentality
Having an attitude of gratitude means putting an end to the victim within. Luckily for us, feeling grateful and feeling victimized are a lot like water and oil - they simply don't mix. Fill your days with one and there will be little room left for the other.
Everyday Victim Mentality
---
Lapsing into victim mentality happens to us more often than we may care to admit. 'Why did this happen to me?', 'Life is so unfair', 'I deserve better and am entitled to it', 'Why does life have to be so hard?', 'Why can't everyone just get along and be nice?', 'When am I going to get my chance?', 'Everyone's out to get me', etc. These and many more are examples of the self-talk typical of the victim within.
Sometimes the victim within isn't that obvious. Some of the examples above may not seem to suggest a victim mentality upon first glance. This is because the victim within lives mostly under the threshold of our conscious awareness. It lives in the subconscious mind, influencing our life and well-being from behind the scenes.
Therefore, a powerful step to eliminating victim mentality from our lives is to first become aware of it. Once we become aware of instances of 'victim thinking' in our life we can do something about it. Having an attitude of gratitude can help.
Never Enough
---
The essence of everyday victim mentality is the feeling of never having enough. It's actually much more than that. It's the feeling of never being enough. To a mind obsessed with victim thinking there is never enough time, never enough money, enough love, enough respect, enough forgiveness, etc.
The victim within always feels under attack by what it does not yet have. A victim mindset is rooted in lack. It is never satisfied. More is always needed.
How Far is Satisfaction?
---
So, when do we get to feel that we finally have enough? Is it once our hopes for the future are realized? Is it when we secure the relationship of our dreams, earn the money we want, have as much free time as we could hope for? Is this when we'll finally be able to stand up and say, "Enough is enough. I'm content."
Is the inner-victim ever going to be satisfied with these things? Is it ever going to be satisfied, period? Everyday victim mentality hangs on need. It is the habit of being needy. A victim-free mindset can desire or prefer; yet, it can also readily do without. A victim-free mind is ready to adapt. The habit of neediness, on the other hand, is inflexible since it has to be satisfied - or else!
No matter what our achievements or good fortune may be, we will never be content if we are deeply invested in the habit of always wanting more. The only way out, the only way to cultivate a deep sense of contentment in life, is to deal with the victim within - once and for all. We need to wean the mind off victim think.
Victimized or Revitalized by Life?
---
Feeling like we never have enough is to be victimized by life. Yet, isn't that strange? Isn't it strange to be victimized by the very thing that is handing us our lives every moment of every hour of every day? We possess something so powerful and raw - the creative power of life - yet we seem to reflexively revert into a mindset of lack.
Feeling like we never have enough is a betrayal of our natural instincts. Although the feeling of lack may be so deeply embedded it may feel natural to us, the truth is that it is nothing more than a mind habit. Without this habit we do have enough. We are enough. And with this inborn self-sufficiency we can create more, from a feeling of strength rather than desperation.
Having an attitude of gratitude is to reconnect with our natural power and with the power that created us. It is to remind ourselves who we really are, lest we continue to feel sorry for ourselves or bemoan our lot.
Repel One With the Other
---
Having an attitude of gratitude and indulging in victim thinking are mutually exclusive. We experience either one or the other, never both at the same time.
This is great news for those of us who want to eliminate victim mentality and bring more gratitude into our lives. We need not address the victim within directly. Neediness will perish on it's own by filling our days with gratitude.
Feeling needy or victimized - gratitude has no place to enter. Feeling grateful - we leave neediness and victimization out in the cold. If you want to eliminate victim thinking from your life then having a strong attitude of gratitude will do it. Here is one specific way to help cultivate the gratitude attitude in your life...
You can find tips for having an attitude of gratitude and growing it strong, by visiting developing the attitude of gratitude. For another related article you may find of interest, check out gratitude and the warrior within.
---
Like what you've been reading so far? You can download the best of it here...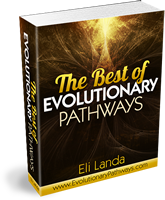 Click image for details
---
For related out-of-the-mind self improvement and motivation articles, visit:

The Gratitude Attitude & The Reactive Mind

Instinctive Benefits of Gratitude
---
Return to top of Having an Attitude of Gratitude
For more about The Power of Intention
Return to Inspired Self Improvement and Motivation Home
---
Copyright© 2012, Evolutionary Pathways®. Proactivity, Motivation and Self Improvement. All Rights Reserved.
Please review our privacy policy, legal disclaimer and affiliate disclosure