Deep, Thought Provoking Questions On Positive Attitude
Deep, thought provoking questions on positive attitude helps us re-examine what it means to cultivate a truly positive attitude for life. Positive thinking, on it's own, can be fanciful. Establishing a positive attitude on solid grounds surely requires more than that.
A Positive & Proactive Attitude
---
Thought provoking questions on cultivating a positive attitude below...
What do we mean by cultivating a positive attitude? Am I clear as to what a positive attitude actually consists of?


Is cultivating a positive attitude basically the equivalent of shutting our eyes to negativity and burying our heads in the sand? How may it be something different than this?


Does cultivating a positive attitude mean that we're no longer supposed to feel sad, bad, insecure, angry, upset, and frustrated? How can we cultivate a positive attitude that is capable of living side-by-side with these all of reality?


Is there a connection between cultivating a positive attitude and developing character? In what way are they related to each other, if at all?


Does cultivating a positive attitude require any mental discipline?


How do we overcome the pull of negativity and prevent ourselves from getting dragged down by it?


Can negativity actually be an important condition to developing a positive attitude that is stable and enduring?


Is 'strong thinking' an important aspect of developing a positive attitude? Is it possible to cultivate a strong positive attitude while nurturing the weeds of weak thinking?


Negativity can often seem strong. But does negativity make us strong or weak? Is it's power destructive or creative?


Isn't negativity the core ingredient of weak thinking? Isn't positivity the core ingredient of strong thinking?


So why do you think that positivity has somehow been linked with weakness; and negativity with strength?


Could it be that what we usually think of as being positive, is not fully positive? Could it be that in our unexamined positivity there are elements of undetected negativity that have yet to root out?


Can I think of one example where my positive attitude may actually have a hole in it? In what ways may you be sabotaging your positive attitude?
Stepping Out-of-the-Mind
---
Few of us fail to appreciate the merits of cultivating a positive attitude. Yet, this task is not always as straightforward as it seems. There are many little ways, on many different levels, that we sabotage our best intentions.
We often equate developing a positive attitude with feeling good. While this is partially true it tends to put our focus on the wrong things. A positive attitude can readily be developed in the midst of feeling bad. Taking action in the face of lethargy is a potent example of cultivating a positive attitude in the face of negativity.
If we persist in our efforts at developing a positive attitude however, it stands to reason that your overall feeling and energy levels will improve. This is why we need to stick at it even though our mind may be trying to convince us to give it up.
---
Like what you've been reading so far? You can download the best of it here...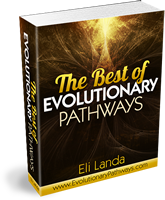 Click image for details
---
| | |
| --- | --- |
| | Related Articles... |
---
Return to top of Questions On Positive Attitude
For more Thought Provoking Questions
Return to Proactive Self Improvement and Motivation Homepage
---
Copyright© 2012, Evolutionary Pathways®. Proactivity, Motivation and Self Improvement. All Rights Reserved.
Please review our privacy policy, legal disclaimer and affiliate disclosure